Big Pink
A lot of routes in Vedauwoo Wayoming are total sandbags.
So leave your ego at home they tell you. Have to admit Big Pink got me really frustrated, angry and in self-doubt. Pamela Shanti Pack (picture) kept on dragging me up here and showed how easy it could be. She only smiled every time I felt defeated. It took me years. A great lesson to be really humble, patient and stay inspired.
Do it yourself!
This route is a test piece for climbing wide cracks. See the VIDEO!. It takes your breath to hold on to the sides of the basalt collums. To move upwards it means you have to be in for some beating and struggle. Succeeding on an Offwidth (Wide Crack) is so much more rewarding. Route name: MDS (Mach Es Dir Selbst).
Climber: Line van den Berg
Walking the line
It takes some skill and some skin to climb a thin line like Hydra (8a 5.13a/b). See the VIDEO. Fingers jammed in the small crack and feet mostly on friction. This climb is one of the best thin cracks on basalt I know.
Jeroen went for a cup of coffee in the city after an almost succesfull try. After some relaxing he came back and did an almost speed ascent.
Climber: Jeroen van Zeeland
Don't look down!
It's an amazing feeling to climb a chimney. A strange Ballet of moving without loosing grip. Solving the puzzle with your body. She has the luxury of climbing this route while looking down on magic Orco Valley! Route name: Nautilus on the Sergent wall.
Climber: Marit
Less is more, but wide is better!
A route without holds. One wide and long splitter. A recipe for endless struggle to find ways to move up a crack this size. Succeeding this route means you mastered by suffering. This aesthetic line is maybe not appealing to much climbers but the feeling of a perfect knee jam is just too rewarding. Niek cruised it this time, his revenge after getting his ass kicked on an earlier attempt years before.
Route name: Big Baby. Indian Creek, Utah.
Climber: Niek de Jonge
Climbing in an Inverted Universe
Pamela Shanti Pack totally in her element. Did gravity just shifted? Is she climbing in a Parallel Universe? Feet first, seemingly effortless. She is one of the most driven climbers I know, always pushing her limits and eager to inspire others around her to do the same.
Big Guy
Big Guy is the name of this route. A test piece for Offwidth climbing. Cracks bigger than your fists means you gonna have to work harder, and I mean a lot harder. You make more sounds, really strange ones actually. You are going to breath hysterical and say crazy stuff that makes your belayer laugh. You probably gonna get angry too. Fun fun fun.
Climber: Steven
Supercrack
A crack that made history in 1976. It was Earl Wiggins (link) that did the unthinkable and climbed a totally parallel splitter in the desert. Back than, protecting a parallel crack was impossible. Our modern protection equipment makes the route a really enjoyable climb now. You want to climb a crack like this till you reach heaven.
Climber: Daniel. Location: Indian Creek/ Utah.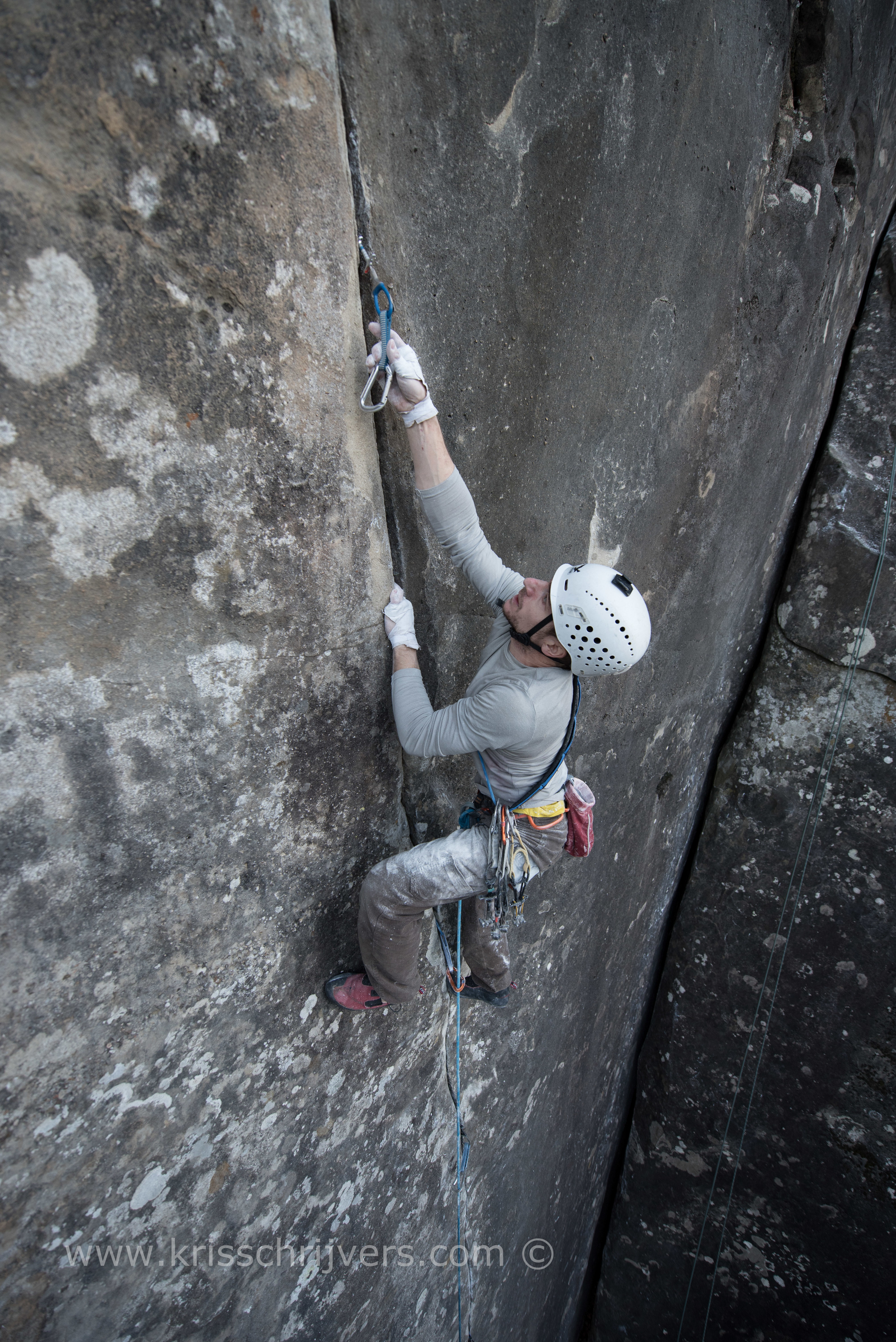 Pure finger 7c (5.12d)
Gianluca Boldetti working his way up! This route eats all your small trad gear and the first 3/4 part is pure finger! Location: Offwidth Paradise (Annot, France)
Jamming can be painful
Depending on the size of the crack it's jamming your hand or fingers in the there. Hand size jamming can be very comfortable with a very secure grip. But if the crack size is just a little too small or too wide it can also be very painful.
The finger jam
The wedging of fingers in a crack is called is called 'finger jamming'. The route is called 'Mut der Verzweiflung. Meaning 'Courage of despair". You bravely plug your fingers into the crack in the hope you don't fall and leave a finger behind. It will get scary if you think of this too much.
Flappie
No pain no gain. This is what happens when falling while your fingers are still jammed in small crack. It feels like you're going to lose your finger, but it's just a flappie (flap of skin).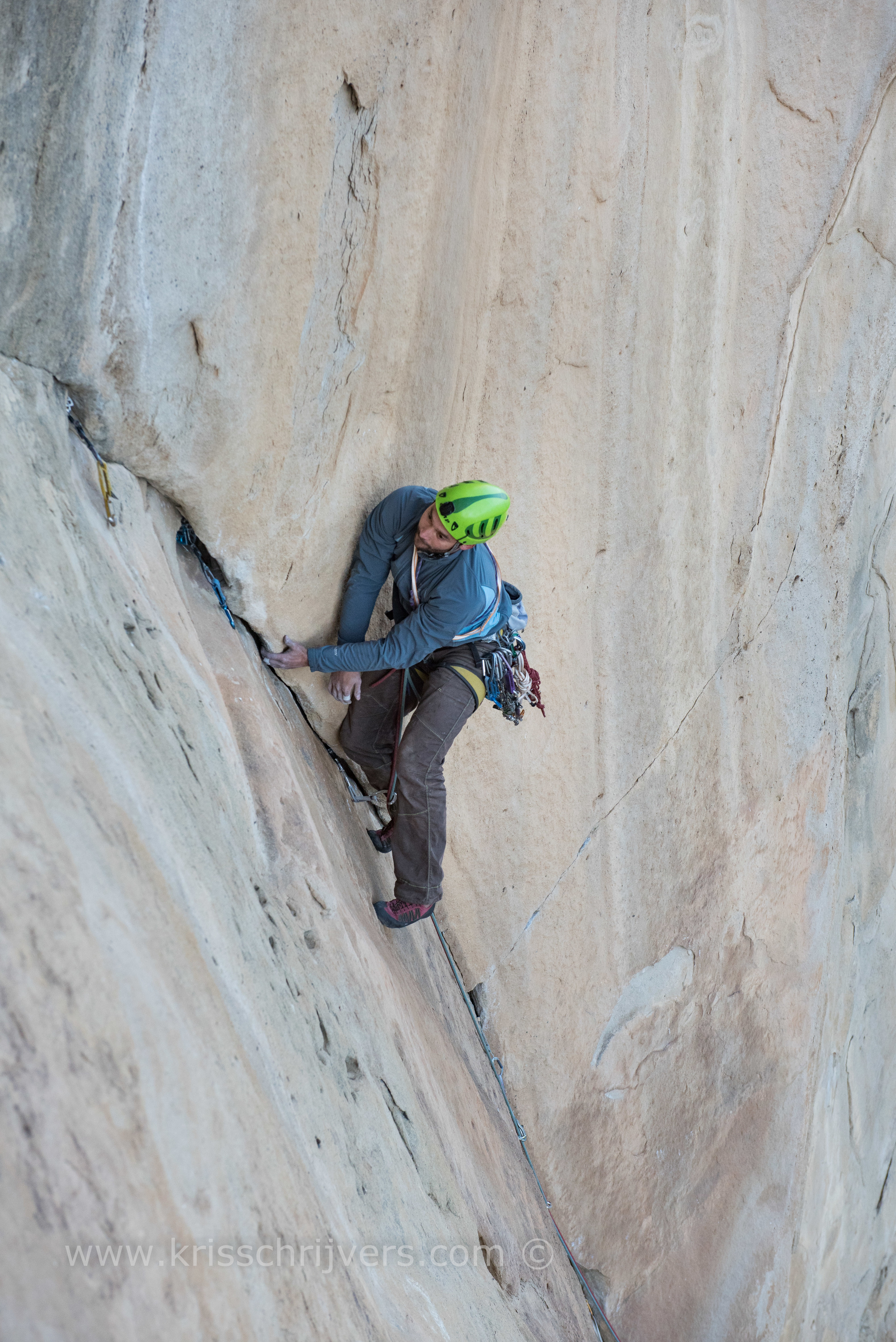 Superturbiditique L4 (5.11d)
Herrie Heckman leading this fantastic multipitch in Annot (France). Placing gear is getting scares at the end and eventually the crack closes leaving you only standing on a slate with still meters to go to the ancher. Are you up for a run-out on small gear?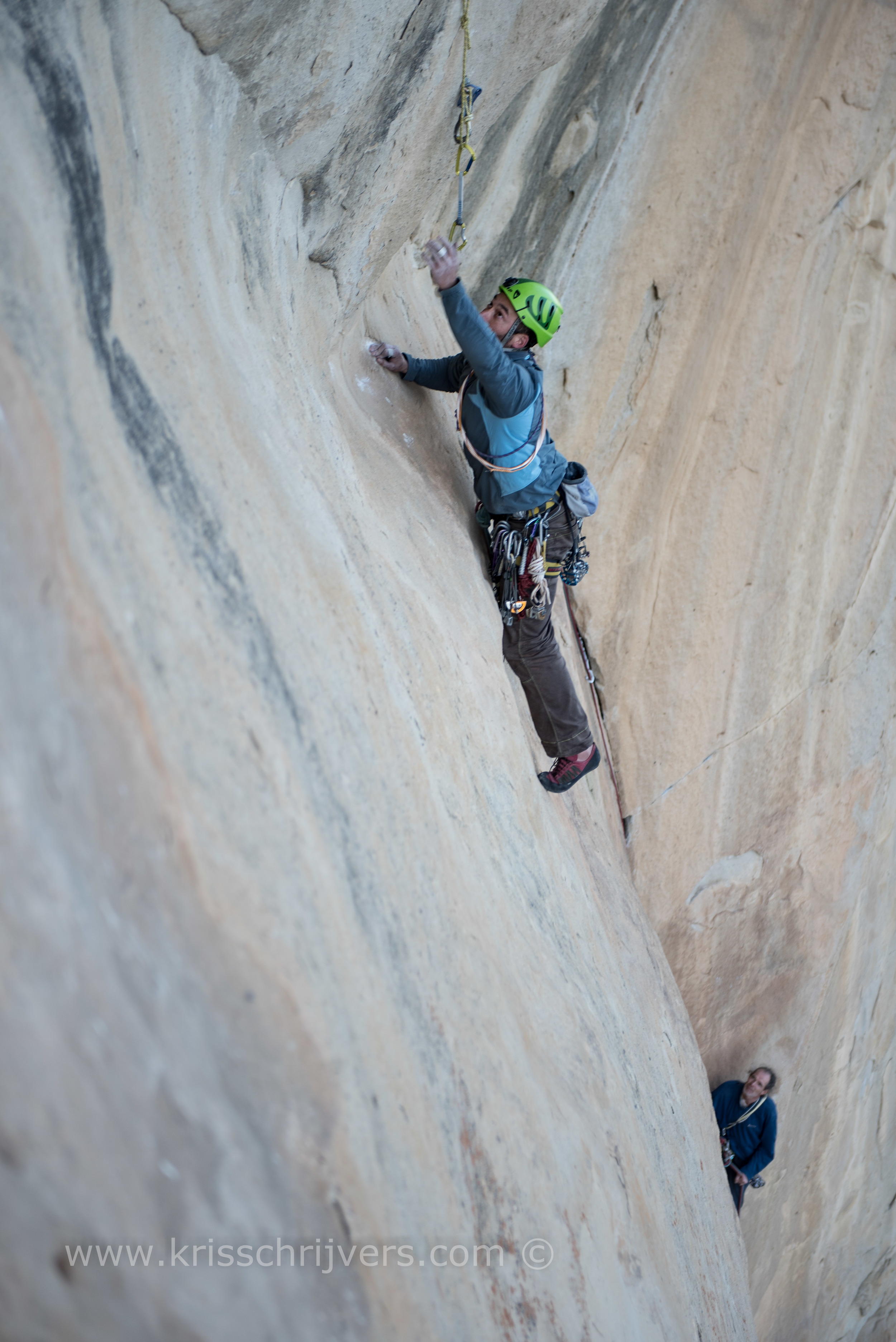 Superturbiditique L4 7a (5.11d)
Herrie Heckman keeping his nerves under control, he still has to clip the rope in the anker! Thank god someone left an extra long schling!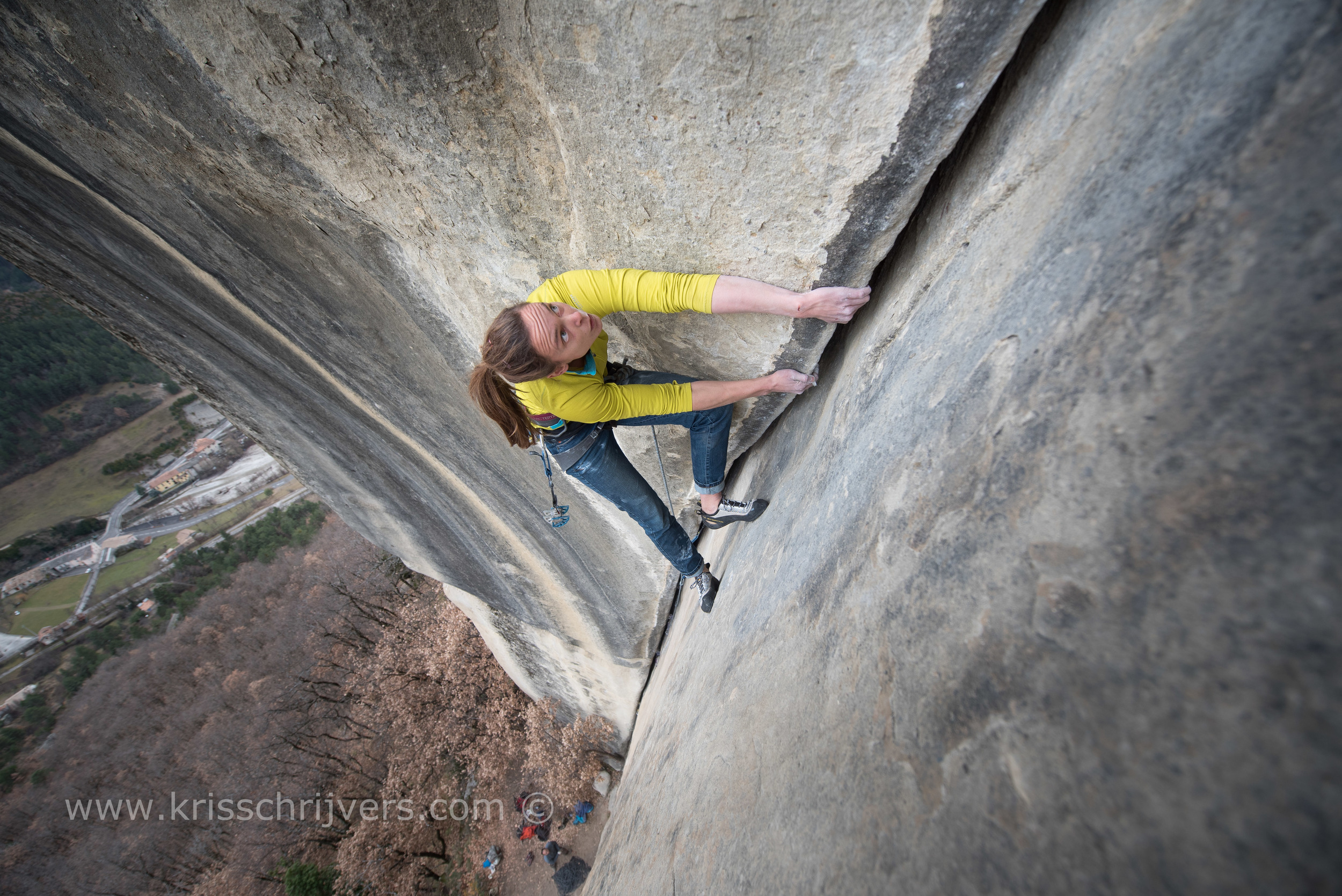 L'Arch
Trad climbing in Annot (France). Fleur is giving it all in this classic Arch. One of the most beautiful routes.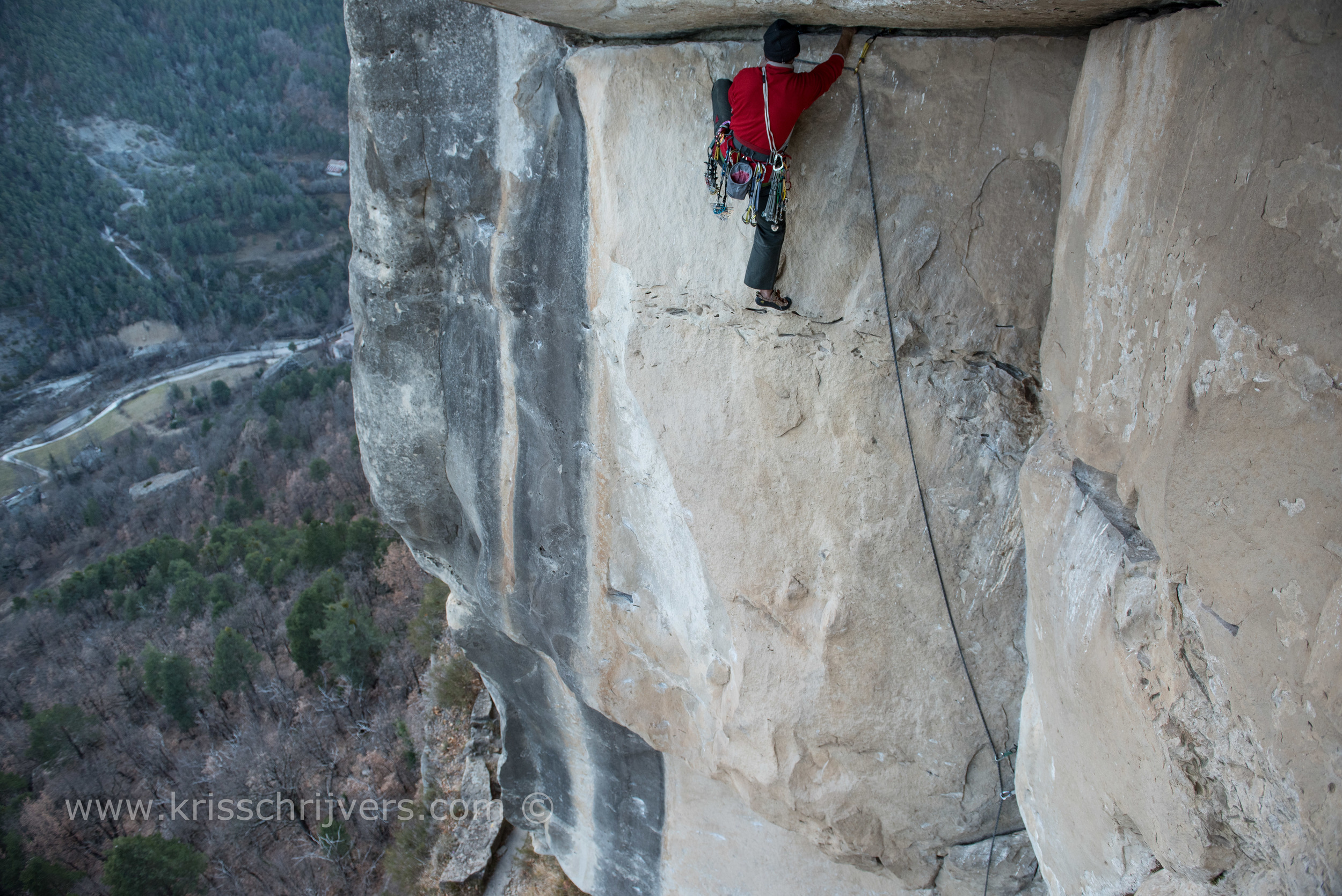 Rasta Chauve 6c (5.11a)
Romaric Marchal climbing way above his last peace of protection leaving us with sweaty handpalms. Nerves of steel!
The American dream
Indian Creek
A crack climbers wet dream. This Canyon in the Utah desert has an infinite amount of cracks (splitters) in red sandstone. On the right you see small trees an bushes that provide shade to the Creek that formed this Canyon.
Mountain project link: The Coyne crack (5.12a)
 
Climber: Karel Snoek
On the road
On the road to Indian creek. This is the crack climbers climbing paradise in Utrah (USA). Left on the horizon are two landmarks, the North and the South Six Shooter. The tower on the right I climbed.
The North Six Shooter
After climbing the North Six Shooter on the horizon we refresh in the quietness and bathing sunlight at the Indian Creek..
Nice day on the beach!
The basalt is so sandy they called this route 'Strand' , meaning Beach. Niek performing a drop knee, to position his body under the perfect handjam. A Nice day at the beach!
Granite roofcracks are awesome!
Ever fantasized how it would be to be able to walk on the ceiling? This climb gives you this feeling while looking down in the beautiful valley of Orco/ Italy.
Climber: Karel Snoek
Crack klimmen met vuistverklemming
Karel climbs a fist wide crack here.
A successful on-sight attempt, which means that the climber has not had a previously attempt or given information.
Climber: Karel Snoek
Traditional climbing
Normally one uses fixed bolts drilled into the rock to which we attach the rope to catch a possible fall.
In this style the climber places mobile camming devices, which are also easily removed after climbing.
These metal cams become wider as they are loaded in case of a fall.
Climber: Karel Snoek
Basalt cracks
There are no food steps or edges to hold on to. To gain grip you wedge your fists, fingers, feet or even knees in the crack.
Climber: Karel Snoek
Basalt colums
This wal is the result of an old quarry of volcanic rock. After the eruption the basalt cooled down to hexagonal columns with cracks in between. Climbers use the cracks to gain grip, because the smooth surface lacks holds ledges to hold on.
Secure finger jamming
Finger jams can be quite painful, and it hurts even more on its irregular surface. Locking your fingers like this gives a surprisingly secure grip. With lots of exercise you will appreciate this as your favorit.
Climber: Niek de Jonge
Guticles
After putting your fingers in a crack where they don't belong it will result in bleeding cuticles!
Climber: Niek de Jonge
Colored by Nature!
Wanneer je afdaalt in deze basaltgroeve dan wordt je omringd door kleurrijke wanden vol met mossen, varens en bramenstruiken. Deze ronde kuilen liggen goed verscholen midden in de velden, omringt door bomen. Er heerst een uniek atmosfeer door het gefilterde licht, door de hoge luchtvochtigheid en de hoeveelheid aan gekleurde rots.
De grotere maatjes
Wanneer een rotsspleet te groot wordt om nog een vuist in te verklemmen, maar net te klein om als schoorsteen te kunnen beklimmen, dan wordt het heftig fysiek om te beklimmen. Deze maat heet Offwidth, buiten de maat. Eigenlijk niet geschikt om te beklimmen.
Deze keer moet je een been in de spleet roegen, met de hak en teen de spleet overbruggen, beide handen stapelen of een elleboog omhoog.
Klimmer: Niek de Jonge
Van hak tot teen
Om een voettree te creëren om jezelf omhoog te duwen maak je een hak teen verklemming met je voet. Dit lijkt heel erg simpel maar blijkt heel onnatuurlijk en daarmee lastig te leren. Ken je de techniek nog niet dan is het resultaat al snel dat je volledig uitgeput raakt zonder hoge te komen
Klimmer: Niek de Jonge
In de rots kruipen
Schoorsteen klimmen begint al snel leuk te worden als je de technieken kent en kan afwisselen. De eerste keer is erg spannend en nog veel vermoeiender. Het is lastig om hier uit te vallen, maar omhoog bewegen is nog lastiger. Niek de Jonge soleert deze route.
Chicken wing
De linker arm maakt hier een chicken wing. Deze armklemtechniek is erg effectief, je kan er een auto aan ophangen.
Klimmer: Niek de Jonge
How is the view?
Ook een beetje van de omgeving genieten.
Klimmer: Niek de Jonge
Big bro
Zou jij op dit zekerapparaat een val wagen? Deze uitschuifbare Bog bro is daar wel voor bedoeld.
Klimmer: Niek de Jonge
Fledermaus
Hard move in a route called Fledermaus.
Climber: Daniel.
Fledermaus
Trying to hold on this painfull crack.
Climber: Daniel.